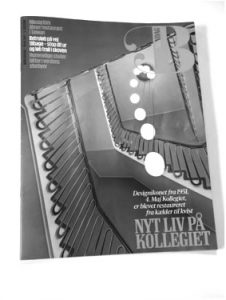 Through the past 2 years, Bertelsen & Scheving Architects has renovated the old 4th of May Dorm at Frederiksberg. When the reopening of the dorm was getting close in the fall of 2016, Frontpage had the job of creating mentioning of the renovation in relevant media. 
The 4th of May Dorm has a special history as a symbol of peace and reconciliation after the second world war, and the essential part of the renovation was to bring back the architectual symbols from the post war-period. Especially the original, vivid colors of the dorm, which are particular and eye-catching, and characterizes the functionalistic style of architect Hans Hansen, and a hope of optimism for the traumatized young people at the time. 
Along with the design office and the board of directors of the dorm, Frontpage was responsible for a reception at the opening in the fall, where chosen media was invited. Press material was sent to the media, explaining the history of the dorm, symbolics and the renovation, along with a lot of beautiful pictures. It was especially architect- and lifestyle magazines that were invited, but also local media from Frederiksberg and the surrounding areas.
The press campaign resulted in some beautiful articles in BoBedre, Berlingske Søndag, Arkitekten, and media on Frederiksberg, amongst other.