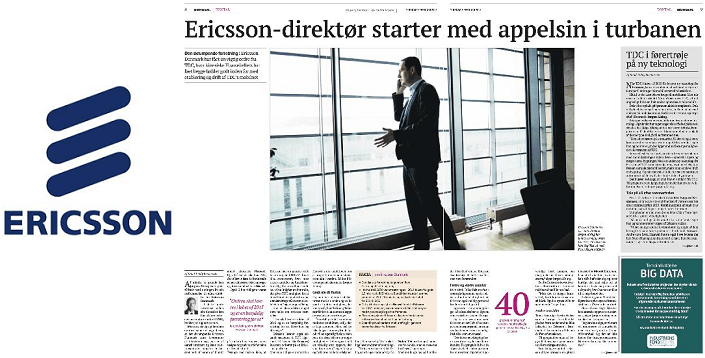 Frontpage is Ericsson's PR agency in Denmark and takes care of press releases, social media, stakeholder management and strategic communication for Ericsson Danmark in the media. Ericsson Danmark has been a PR retainer client since 2012.
Ericsson is the world's leading provider of technology and services for telecom operators. Ericsson forms the basis of the modern networked society with efficient real-time solutions. Today, more than 40 percent of the world's mobile traffic goes through Ericsson's network and Ericsson delivers support to customers' network with more than 2.5 billion subscribers. Through a retainer contract, Frontpage manages all business communication for Ericsson Danmark – from technical news to a comprehensive CSR communication program about the future "Networked Society". The work includes everything from press related work such as press strategy and press contact to preparations of speeches and lectures, strategic consultancy, media training and content marketing in social media campaigns on Twitter and Facebook. Since Frontpage took over the work with Public Relations for Ericsson Danmark in 2012, the publicity of the company has increased more than fourfold.
Ericsson regularly presents a wide range of new technologies. One of Frontpage's first tasks was to introduce the collaboration with Volvo about "Connected Vehicle Cloud". This resulted in extensive publicity via Ritzau, the largest independent news agency in Denmark, in the majority of all news media, TV spots in TV2 Finans etc. An ongoing task is profiling of the leadership – both through views on business development and new customer collaborations but also the more popular stories about the Danes' use of Ericsson's technology through consumer lab reports receives a lot of publicity.
Read our case about the IoT-Report and the work with Internet of Things here.
Hear more about our collaboration with Ericsson – contact consultant Thomas Endelt Andersen or +45 50 70 53 34