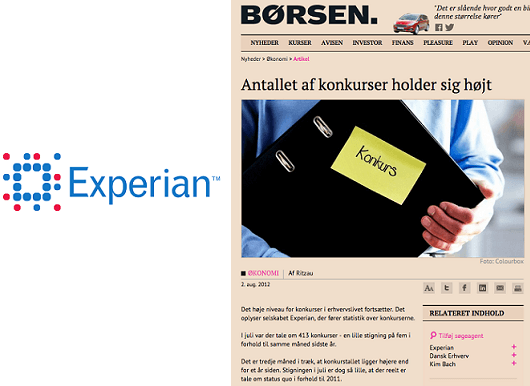 Frontpage has developed a strategic communication strategy for PR and content marketing for Experian in Denmark. Frontpage worked as Experian's PR agency in Denmark and handled PR campaigns and communication tasks including development of digital strategy, communication platform, digital newsletter, case stories and the establishment of a Youtube channel with tutorial videos. Through as successful partnership with stakeholders Frontpage sent out monthly press releases with bankruptcy statistics and were in charge of regular PR tasks and press contact. For a number of years Frontpage solved press tasks through a PR retainer agreement.
Experian is the world's leading supplier of data analysis and statistical models showing economic data, physical addresses etc. Experian publishes a bankruptcy statistic on a monthly basis.
In cooperation with the Danish Chamber of Commerce, Frontpage managed to get Experian's press releases to be a regular part of the news in TV2 Finans and consistently obtained relevant media coverage month after month.
Hear more about our work with Experian – please contact CEO Kirsten Dinesen on +45 22 17 03 39 or kirsten.dinesen@frontpage.dk.