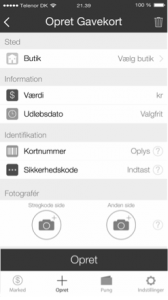 Frontpage was asked to create media coverage for the newly developed app GiftCardGo, when it was launched in the beginning of 2017.
GiftCardGo is a new Danish start-up company. The concept is an app, where people can sell and buy unused gift cards, at a reduced price. Big amounts of money are lost every year because of unused gift cards, and GiftCardGo has created a technologic, user friendly solution to this.
Frontpage's task was to create coverage in the general media, since not a lot of people knew of the app, at the time when we began working with the customer.
We did this by creating a press material with a wide appeal, and a in-depth interview with the CEO of GiftCardGo. The story received mentions in both general- and local media, on TV and social media. See an example here.
Hear more about our collaboration with GiftCardGo – contact consultant Emil Ulrichsen + 45 40 72 11 07 or emil.ulrichsen@frontpage.dk