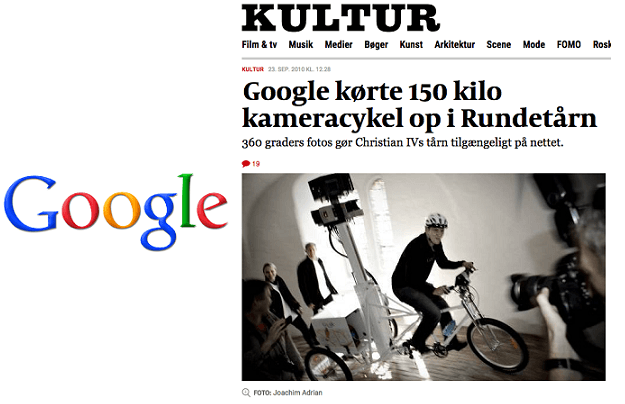 Google is one of the world's most influential software platforms. The press naturally has a great need for news and background material but also for specific stories based on a press strategy. As Google's PR agency in Denmark, Frontpage has advised Google in specific tasks and in the period 2005 to 2014. Frontpage ran strategic business communication for Google as a PR retainer client.
In cooperation with Google's internal communication staff Frontpage has taken care of public relations and integrated communication through press contact, media collaborations, online PR, and events. Frontpage also delivered content to Google Denmark's websites in connection with special initiatives, articles and brochures. Tasks also including taking care of media coverage and the planning of PR campaigns and events.
Google is one of the world's most innovative organizations in internet services, technology and media. With more than 700 billion daily searches worldwide Google has a huge network of users and stakeholders.
Frontpage's work for Google has covered everything from arranging press events such as driving the Google Street View bike to top of the Rundetårn (video) to releasing reports about how Google contribute to the Danish Internet economy. Both by introducing the concept but also by a wide range of subsequent activities. Our PR concept "tech makeover", which Frontpage executed with Go Morgen Danmark, became an element in Google's European bank of ideas for PR as it contributed to branding and improved investor relations.
Hear more about our collaboration with Google – please contact CEO Kirsten Dinesen on +45 22 17 03 39 or kirsten.dinesen@frontpage.dk.