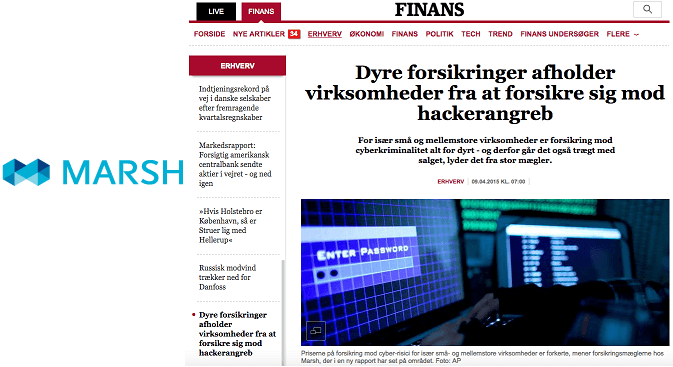 Frontpage has produced a long-term, 360-degree communication strategy for Marsh. This includes communication platform, message documents, newsletter, employee booklets, LinkedIn strategy, education and media training of employees in LinkedIn etc. Frontpage also handles ongoing PR tasks such as press releases and press contact.
Marsh is the marketleader in insurance broking and risk consultancy and employs about 27.000 employees in over 100 countries. Marsh provides the largest companies with consultancy in risk analysis, claims handling and administration of insurance programs.
Frontpage handles ongoing consultancy about PR and press activities. Results have included Marsh being interviewed in connection with World Economic Forum and appears as an expert source in the media – like here on food safety and here on IT security. Besides this, Frontpage constantly contributes with text and news for internal and external communication.
Hear more about our collaboration with Marsh – contact consultant Thomas Endelt Andersen on +45 50 70 53 34 or thomas.endelt@frontpage.dk.