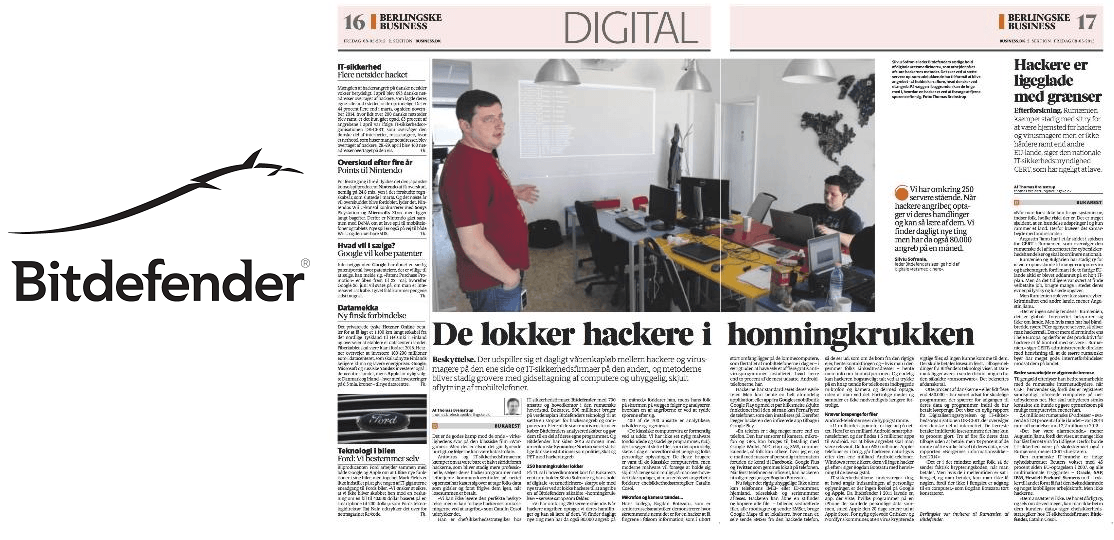 Frontpage handles all strategic communication, press contact and PR in Denmark which includes investor relations, content marketing, case stories, press releases and content on website. With our efforts we aim to spread knowledge of Bitdefender's products and services, and to demonstrate the professional expertise that Bitdefender has, and hereby create a credibility of Bitdefender's brand.
Bitdefender's security- and antivirus systems protects more than 400 million users on a daily basis and has for four consecutive years won gold at the independent reviewing organisations, AV-TEST and AV-Comparatives. Bitdefender is represented in more than 100 countries and works with some of the world's biggest IT companies such as IBM and Virgin Media.
We set both quantitative and qualitative objectives for the PR-work, including that every month we get wide mentions and have lots of press clippings in both general, consumer- and tech-media, and to obtain mentions in selected media (tier 1), which specialises in subjects such as IT, Tech, digital trends etc. We also work to obtain speaking time in certain media, for example national TV. This can happen when spokespeople of Bitdefender are being used as experts in interviews in the media.
You can read our case about WannaCry cyberattack and how we positioned Bitdefender as experts in the media here.
Since Frontpage began working as a PR agency for Bitdefender in Denmark and with their branding and communication strategy, Bitdefender has received extensive media coverage and experts from Bitdefender, has been established as a respected expert in Danish media. Among other things, it has resulted in articles in magazines like this or newspapers like this. Even though it is a complicated area, Bitdefender's knowledge about IT security and the threats of tomorrow also serves well as TV content.
Hear more about our collaboration with Bitdefender – contact consultant Emil Ulrichsen + 45 40 72 11 07 or emil.ulrichsen@frontpage.dk