Our primary clients are international clients – all with different needs and ways of working. Most of them are PR Retainer clients and in average we work with our clients in 5+ years. Some PR clients both have a local PR strategy and a social media strategy – others only focus on traditional media mentions. Let's look into how we work with our clients.
Over the years we have been working with a lot of different international clients, some with a small office in Denmark, others with no staff on the ground. Working on a long term PR retainer basis we have serviced clients like Ericsson, Bitdefender, BBC Worldwide, Ferratum, Google, Starbucks, Selecta, and Domino's Pizza.
We have worked with integrated campaigns, including PR, social media, events and promotions. We also handle Public Affairs, Investor Relations and Corporate Social Responsibility (CSR).
Below you can read about:
Media Insights and social media in Denmark
PR Retainer – how we count the hours
Press clippings – Reporting and media quality assessment
Media insights and social media in Denmark
The Nordic countries have some of the most tech-savvy populations in the world with almost all citizens owning a mobile device and having a huge demand for news. Social media use is also high (Facebook and LinkedIn are the dominant), which in turn has influenced the media. Currently (2016), approximately 30% of all Danish online newspaper readers are coming from Facebook.
Please click here for a recent update about the Danish and Nordic Media landscape.
In addition to influencing media behavior, social media has influenced media content. There are fewer media available, and the rising demand from readers to get several (small) news stories has led to online media that produce a patchwork of brief stories, frequently with a sharp or funny angle. Moreover, "clickable" lists such as "10 things you need to know…." are becoming more popular online and spreading quickly across social media. Interestingly, also more serious and industry focused media tend to like these kinds of stories.
Print media are under pressure, circulation is dropping and number of pages are reduced. However, some newspapers and magazines are highly influential and widely read in the whole Nordic region. Working in PR, we have found that we (in conjunction with leading business papers and special sections (finance, IT, etc.)) have to conduct long-term planning with journalists and look for news angles that are either timely or build on bigger trends rather than merely promoting a product. "News" is often planned up to six weeks in advance of the publication. When we pitch a major feature story, journalists will openly tell us that they only have space in a certain number of weeks.
This influences the way we work with PR. Of course, we use all the classic tools to give our clients the best and most trustworthy coverage. However, changes in the media landscape have led to a need for a more agile and fast response to the media and to pitch exclusive stories to publications because the media markets are so small. In short, the traditional press release in the Nordics is less influential than in-depth, exclusive pieces or interviews.
Pitching stories as exclusives has become crucial to gain coverage. In addition, it has become crucial to react extremely fast to catch up on a developing story by commenting on current affairs or filling the news stream with funny and quirky stories.
Our way of work – all clients are different…
… we know, however, what is often super important for the client:
Fast handling press releases exactly according to the client's needs

We translate as close to the original text as possible and adapt the press release to the Danish market.

We know all about the legislation around press releases, e.g. pharma or listed company announcements

All text is approved by local or corporate communications e.g.. Most often, we work so closely with our clients that they trust our quality and don't need approvals

Pitching and ongoing reporting

Some clients love to receive mails every time we have been in contact with a journalist – others prefer a sum up at the end of the day, week or monthly

Quotes and spokespersons

Danish and Nordic media prefer local spokespersons – especially on a C-level. We develop an appropriate quote either based on Q&As, spokesperson's brief or similar documents and get approvals from the client

If necessary, we do media training for all relevant spokespersons to ensure that the corporate key messages are verbalized fittingly to the local market.

Reporting and press clippings

Some companies only focus on key media and key messages – others on quantity. We have met a lot of different reporting formats – and are able to meet whatever need the client might have for reporting of press clippings and social media interaction.

Please look in this section about reporting

.

Media and social media crisis – we are online and accessible 24/7

We know how fast a crisis can develop and being "always on" is deeply rooted in our company – we react the second we get an alarm. We work out a media crisis plan making both us and the client prepared for however the crisis will develop.
PR Retainer – how we count the hours
A retainer agreement means that we work closely together – not just as an agency but more like a super specialized part of your corporate communications department. Consequently, we don't count our hours that closely since we have a common goal.
What you get via a retainer is a highly qualified PR team, whose members have Master's degrees in communications, have worked in a news or broadcasting organisation and are in contact with Danish or Nordic media on a daily basis. You will have an account-responsible touchpoint with the rest of the team working as backup for sparring and support.
The retainer agreement is based on your requirements. As the PR agency, we will consult you about tier 1 & 2 media, strategy and provide you with a realistic view of what to expect. This is where we set up our OKRs – Objectives and Key Results. Our focus will be on getting results that ensure your company the right profile in the Danish media.
We continuously register our working hours – and over a 3-6 months period we look into the retainer; is it fair for both parties. On special occasions like a big press event, extensive research or public affairs programs, we will work out a specific budget.
Our PR retainer often includes:
Public relations

Handling enquiries from the press, writing press releases, distributing press releases, pitching stories and following up on contact to the press.

Establishing and continuously developing a media and journalist database.

Providing continuous consultancy and pro-active suggestions for stories and angles.

Social media strategy

If requested, the agency ensures synergy between PR-activities and is pro-active on social media – this includes postings, campaigns, links to mentions, etc.

Public Affairs & outreach programs

Facilitation of contact to stakeholders and continuous monitoring of the trends in attitudes among stakeholders.
PR Story Dashboard
We take a structured approach to our work, including execution and reporting.
For pan-Nordic clients we set up a cloud-based working environment in Google Apps for Work to efficiently share ideas, press materials, reports, etc.
We use Google Hangouts, Lync, Skype, etc. for online video conferences.
To keep track of all the processes, we have developed an extensive tool in a cloud-based spreadsheet. This way the whole team can follow the process.
Every tab represents ongoing jobs
Ideas under development: pan-Nordic ideas
Ideas in pitch: ongoing pitches approved by client
Pipeline: planned activities agreed-upon with the media and ready for execution/publication
Story performance: overview of key results (not full report)
Inactive/scrapped ideas
Country-specific activity overview (DK, NO, SE)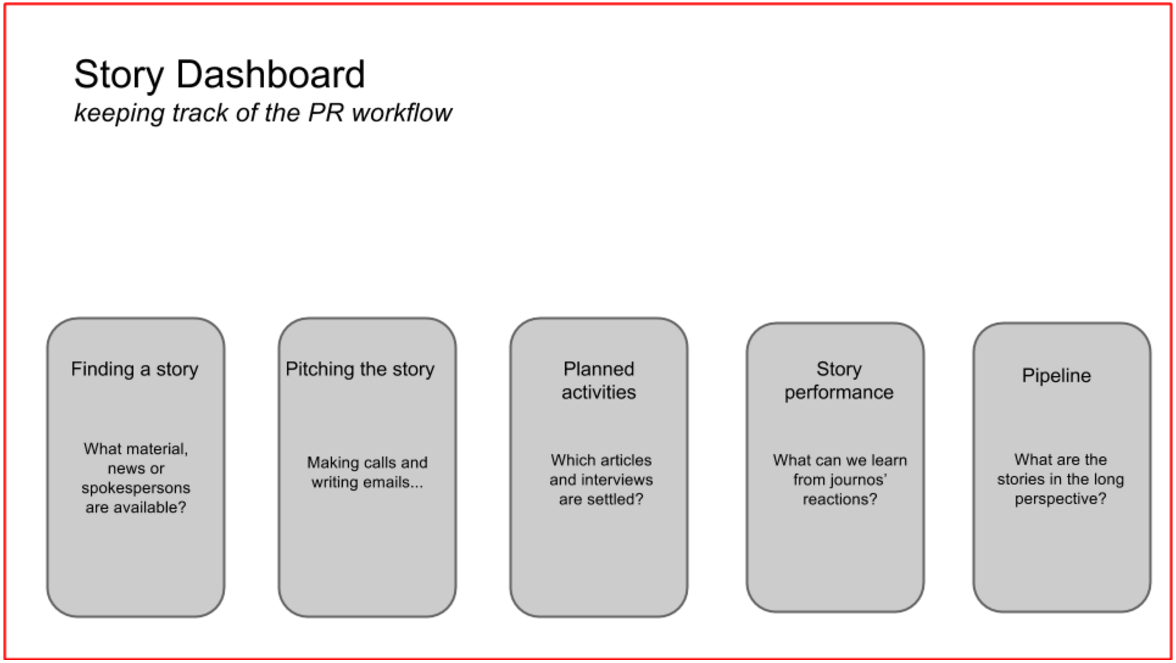 Media monitoring
The Nordic markets can be quite different and there are different monitoring providers who are strong in one market and weak in others. In general we recommend using local media monitoring providers. In Denmark (and the rest of the Nordics) we often prefer working together with Retriever. In Denmark InfoMedia is also quite good. The price will normally range between 400 – 800 euros monthly. 
Press clippings – Reporting and media quality assessment
All reporting (press clippings, number of visitors, etc.) will be delivered as required either on a project basis or a monthly basis.
To follow some of our clients' reporting needs, we define the media in tiers 1 and 2 and evaluate our results using examples in the media and the coverage in the following terms:
Media is reported based on the following criteria:

Specialty
Carrier
Value

Tiers 1 and 2 (target media)

Depth

Mentions
Extensive comments
Features/interviews
Using the dashboard below, we can compare the monthly coverage with coverage during the same time last year.