At Frontpage we offer public relations and communications work of high quality. With us there is no border between traditional PR and digital PR. As Frontpage's client you work with highly educated and sharp communications experts who are in close contact with journalists across media and who are active on social media.
Media change at an increasingly rapid speed in a race to be where users and customers are. We are experts in getting the story about your company or your product to meet your target group in an efficient, relevant and credible way through our work with public relations. This can be through press releases, content marketing campaigns, social media, SEO or public affairs. We communicate with stakeholders who can influence your company.
For specific information about the media landscape within your specific area of interest, please contact us.
Because crisis communication is an important part of our competencies you can contact us by phone 24/7 if you need here-and-now advice and handling of press crises, social media crises or the like.
Some businesses need to have their message sharpened and their leadership media trained. We offer targeted, one-on-one media training and development of message documents.
Good digital marketing and PR push mentions in the press and thereby in the target group's consciousness when they search online. A company must be visible at the top where the target group is looking. Digital PR ensures that companies' press material gets a life in the media - and an even longer life with the customers. With language as spear point Frontpage targets companies' messages and content clearly on their homepage. Language and structure are developed so they stick in the target group's conscience and give the best possible flow of information. An analysis of the homepage could mean a rearrangement of the building blocks if the page calls for a more user friendly interface and new information structure.
It is important that a page's users can quickly find what they are looking for, both in relation to a company's homepage and in relation to temporary campaign pages. A clever choice of media for companies is usually to use social media such as Facebook, Instagram, LinkedIn, Twitter, etc. to get attention and create dialogue with the target group and become better at understanding its needs. But it is important to consider your presence on social media carefully and understand that the deselection of platforms is as important as the ones you select in reaching the company's strategic targets. Read more about how we work with social media here.
More information
If you wish to know more, please contact: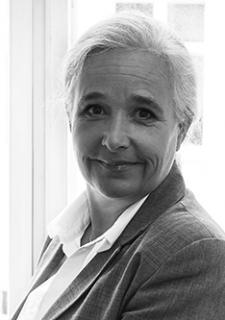 Kirsten Dinesen
CEO
Kirsten Dinesen holds a Master's degree in Language and Communication from the University of Copenhagen and has worked as a journalist at the Danish Broadcasting Corporation. Previously, she has held positions as CEO of Euro RSCG and Lowe/DraftFBC, working with integrated communication.
As a thought-leader within the PR industry, Kirsten has developed effective methods for executing integrated campaigns and has published the critically acclaimed textbook about integrated PR and social media strategy Forbrugeren i Førersædet (Consumers in the Driver's Seat).